Elemental Kin are mortals with elemental traits.
Overview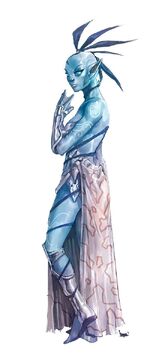 Elemental Kin are formed in one of two ways: either the child is joined with an elemental spirit while still in its mother's womb, or, more rarely, a mortal mates with a more humanoid elemental.  The exact way this second union of the physical and elemental takes place is still not entirely known. 
The criteria that draw elemental spirits into a child are varied.  They are drawn to regions closely related to their element, or to a parent or parents whose personalities are related to certain elements.
While the Elemental Kin are born on mortal realms, they do often find themselves the elemental planes from which their powers stem.  This can either be due to their elemental "parents" wishing to bring their spawn home, or the plane-touched feeling a draw to the plane from which their unique form stems.
Types
Fire Spawn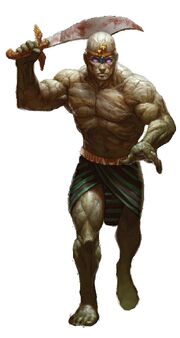 Known as Flamekin.  These elemental spawn often have firey red or charred black skin, with flaming hair.  The Flamekin are not limited to being born in any one area, but are often found in the desert.  They are also found among the dwarves and orcs.
Water Spawn
Known as Waveborn,  the water elemental spawn most often have blue skin and flowing, watery hair.  They are born regularly to Nereids, Merfolk, and human sea-dwellers.
Earth Spawn
Often known as Oreads, these elemental children have skin the color and durability of stone and, when they have hair, it is hard and stiff, often appearing as a sculpture or a series of stalagtites.  Oreads were most often born among the dwarves, but have become rare on the surface since the dwarven genocide.  Most earth-born now reside below the surface, coming from the races of Drow, Duergar, and even rarely Derro. 
Air Spawn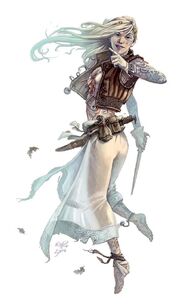 Known as Sylphites and Windchildren.  The air elemental spawn are light of frame with light-colored skin, usually pale white or light blue, and billowy hair.  They tend towards loose, billowy clothing for ease of movement.  Sylphites often appear in both the desert and the wintery north, though they are known to appear on plains and island societies.
Ice Spawn
Known as Glacies, the ice elemental kin tend to have cold, blue skin and hair like a mass of icicles.  Glacies are frequently born to the tribes of the north, be they human, frostling, troll, or something else.
There are many Glacies on the icey plane of Jotunheim.  Among them are the Blue Dwarves, a large society of icey dwarves.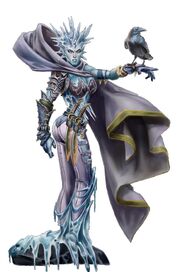 See Also
Return to the Index of Races, or have a look at other Plane-touched and the Outsiders who influenced their birth.